A fabulous new community centre and cycle hub is being built in the heart of Cottonmill in St Albans.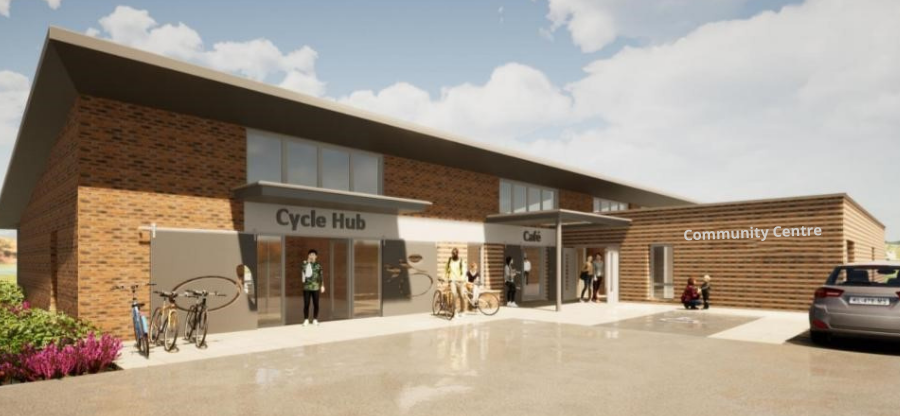 The centre is the result of over 3 years campaigning by local groups, and is currently being built at the former Marlborough Pavilion site, off Old Oak, Cottonmill Lane AL1. It's due to open in Spring 2022.
The Cycle Hub hopes to inspire new cyclists in one of the most disadvantaged areas in the district – helping to reduce car journeys, carbon emissions and improve the quality of air.
About the centre
The Community and Cycle Hub with Cycling Activity Park will be safe place to learn to ride – providing training for youngsters and adults, women-only sessions, fun cycle activities and encouragement for less-confident riders and people with disabilities. There will also be bike workshops and club sessions for experienced cyclists.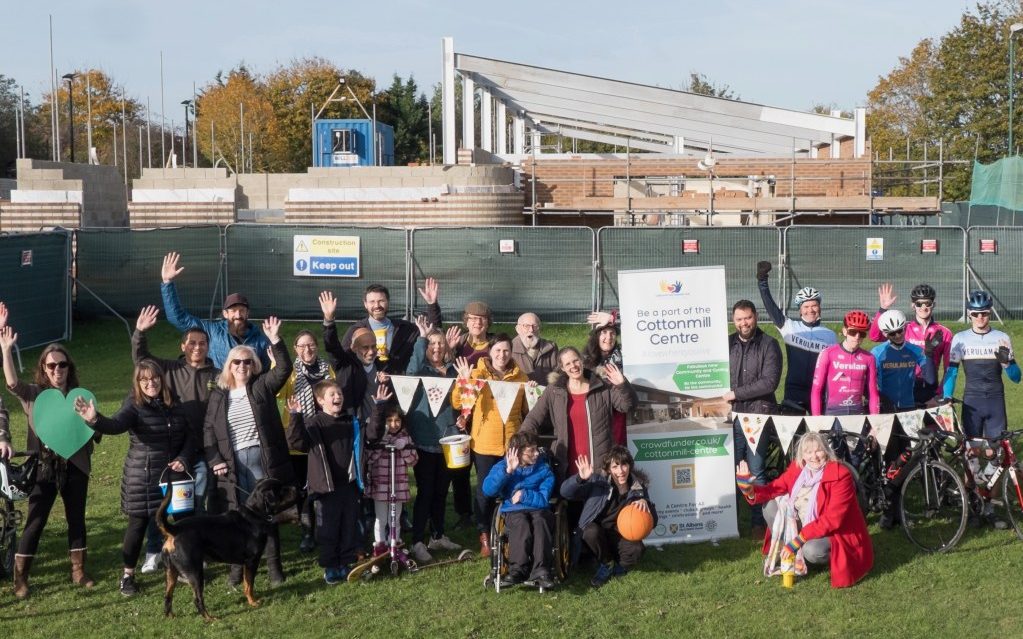 Cottonmill and Sopwell Hub campaign, Verulam Cycling Club, Sopwell Community Trust and St Albans scouts worked with the council design team to create a centre to meet residents' needs.
The centre itself will be an eco-friendly community building with solar panels, air source heat pump, green roof, and no gas. A small fruit orchard with community kitchen will support food sharing and food growing initiatives – finally a community cafe!
There will also be halls to rent at low-cost, a Quiet Room for peace and reflection, an accessible toilet, and Wudu washing facilities for Islamic visitors.
Sopwell has few community spaces so we expect the halls to be used for yoga, Pilates, drama, dance, and social events including celebrations and weddings. And finally the Sopwell Muslim community will be able to host community events locally.
The centre can host youth clubs – from guides and scouts to meetups for the elderly and isolated, health and well-being support. Additionally, food growing projects and food banks can use the community kitchen.
Donate to help build the centre
The centre is being partly funded by St Albans City and District Council, but the local community are also crowdfunding and have so far raised over £30,000. Donators get rewards depending on how much they give – for example, a £50 donation will get your name engraved on one of the bricks, and you can even name a room!
Other perks of donating include:
3 Cycle Coaching sessions for young people
Tea for two with Daisy Cooper MP in St Albans
A veggie BBQ party for 6 guests with Christo from Ye Olde Fighting Cocks
A one month's trial membership at JJ Fitness Gym
This project started out with a chat between two residents in Sainsbury's café . Now it is a dream come true for the groups who began to campaign. We hope you will enjoy this wonderful new community-led centre, and that it will be a cornerstone for developing sustainable transport in the district, and a community hub to encourage and enable supportive local networks to thrive.